Discover more from 021 Newsletter
Helping marketers make sense of data, from zero to one.
No one's buying your product now: what should your growth team do?
Here are 5 activities that acquisition, growth and performance marketers can work on during pandemic times.
My local bakery has a one-week wait queue for sourdough, but I'm assuming you're not seeing the same demand for your product now. If you are (e.g. Slack's Q1 earnings), then it's clear what your growth team should focus on: onboarding and activation.
What if almost no one's trying out or buying your product? You probably shouldn't just carry on with your acquisition strategy — splurging on prospecting campaigns or outbound sales. Then what should you focus on?
Here are 5 activities that acquisition, growth and performance marketers can work on during pandemic times:
1. Acquire cheap leads through performance marketing
CPMs could reach an all-time low during this pandemic. This research from performance agency Nest says global CPMs for e-commerce have already dropped by 50%.
A week ago, Bill Kling (SEO and Paid Marketing for Drift) was already calling this:
Bill King™️ 🚀 on LinkedIn: #facebookadvertising #facebookads #facebookmarketing | 77 comments
Been ramping up experimentation in our Facebook ads account, here are the results this month to date vs prior: ✔️ Leads…www.linkedin.com
If you rely on outbound sales, this is actually a great time to invest in lead generation campaigns.
Use gated content that's extremely relevant for times like these: e.g. this blog post. People are hungry for information and if you can provide them with valuable knowledge at difficult times, you will see the uptick in your click-through-rates.
You're likely to pay half-price for a lead and, most importantly, you're helping your audience out with your expertise.
2. Execute on evergreen initiatives, like SEO
Invest in SEO today, see the results six months down the road. Well, like they say: no day but today.
If you're a product-led growth company, you already know how it is. Focus your acquisition strategy on scalable activities that bring you compound growth. That's SEO for you.
Start building a library of content: define your topics, your audience, create cluster pages, review your meta-titles and descriptions. Don't know where to start? This guide from content marketing agency Animalz is pretty good.
3. Optimise your funnel
Disclaimer: this should never be a "break in case of pandemic" activity. If you're not constantly optimising your registration, activation, re-activation and forgot password flows, you're likely missing out on some big wins.
How big of a win? I did a data modelling research for a B2B SaaS startup and this is what I saw: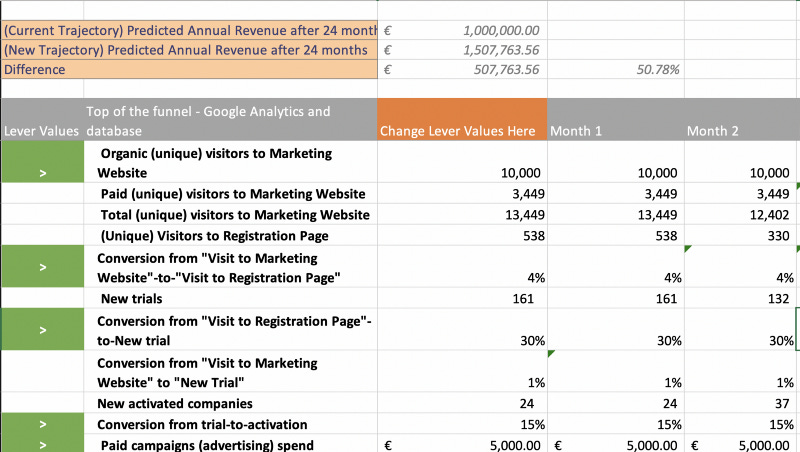 A data modelling spreadsheet can help you calculate the long-term ROI of top of the funnel improvements
An increase in "visitor-to-trial" conversion by 1% point would lead to a 30% increase in ARR 2 years down the road.
How's that possible?
It's top of the funnel. A small increase there trickles aaaall the way down.

This company mostly grew organically: through word of mouth, but mostly importantly through being "discovered in the wild". The more companies used their product, the more companies they would acquire.

This means: a funnel improvement that would lead to 1 additional trial in Day 1 would mean that by Day 730 they would have 3 additional paying customers.
4. Refresh your retargeting and branded search campaigns' creatives
Let's assume that with this pandemic, the need for your product has decreased. People are not googling for the problem you're solving. Prospects don't want to talk to you on the phone.
Realistically, who can you convert? Those that were already considering buying your product.
Give your retargeting fresh assets. Maybe throw in a special offer. Maybe prolong your sales funnel — instead of serving them a "direct purchase" ad, invite them for a free onboarding with your customer success team.
This is also a good opportunity to remind them of the value of your product. A webinar or article could do a great job here.
5. Review your attribution and taxonomy
Story time. I wrote over 20 whitepapers on performance marketing data for a Big Tech. The topics were, for e.g., CPM trends post-GDPR and targeting accuracy of certain exclusion audiences.
For each whitepaper, I spent around 80% time on research and 20% writing. Out of the research time, 20–30% would be reviewing (and fixing) the campaigns' naming conventions.
If you don't have a naming convention or if your naming convention has errors, you're limiting what you can learn with your data or — worse — you're basing your decisions on incorrect information. You should have a defined taxonomy for all of these:
Google Analytics (or Heap/Mixpanel/etc) events

UTM tags

Performance campaigns
This is the most common mistake I see at startups when it comes to data. They will implement multiple analytics tools (even Hotjar!), but they don't define a naming convention. A lot of the data is often rendered useless because of this.
This article gives an example of a naming convention for Search campaigns. The earliest you define and fix your taxonomy, the most accurate your data will be.
Thanks for reading! If there's a topic you'd like to me cover or if you need help with growth, then feel free to reach out.
Also, don't forget to check out my website and subscribe to my newsletter.